Pelicans first overall pick, Zion Williamson was the most-hyped player entering the draft since Lebron James entered the league in 2003. Known for his unmatched athleticism, and high flying dunks, Williamson has drawn comparisons to "The King" himself, and Blake Griffin. All aspects of his game show he's NBA ready, which is why many view him as a shoe-in for the Rookie of the Year Award. Being by far the best player from his draft class, it only makes sense that at the end of this year's season the award will go to him, but oftentimes the favorite to win this award doesn't.
Many more factors beyond "who's the best player" are involved in who has the most successful rookie season. Playing time, injury, and team success are all major factors in a rookie's chances at winning this award. The reality of the ROTY award is that whoever puts up the best stats is most likely to win it, and to do so a player needs to be thrown into the right situation. Being a starter, and one of the primary scoring options are two basic necessities in being able to compete with other rookies. ROTY award winners rarely come from established playoff teams, because they have limited minutes behind competent starters. Players injured during their rookie year also find little success in the ROTY race, the rare exceptions being Kyrie Irving and Brandon Roy, who played 51 and 57 games respectively.
Zion's talent alone is enough reason to believe he's in contention for ROTY, but his team situation in New Orleans, and injury history both show he's no shoe-in. Days before Zion was selected first overall in the draft, The Pelicans traded superstar Anthony Davis to the Lakers for a package of players, and first-round picks. Players included in the blockbuster trade were Lonzo Ball, Brandon Ingram, and Josh Hart. Ingram put up 18 points a game last season, and is predicted to have a breakout season this year.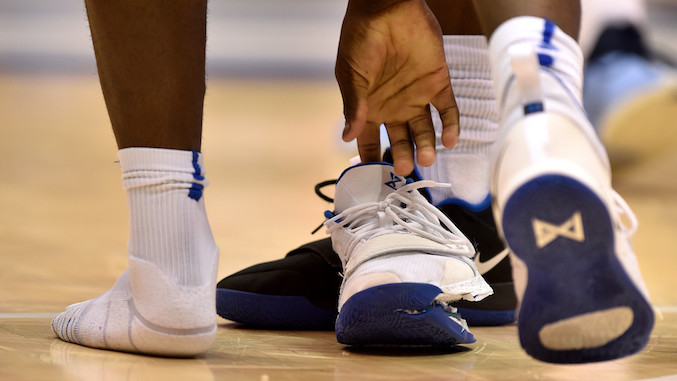 Zion will likely be the second or third scoring option behind guard Jrue Holiday, and Brandon Ingram. Unlike other rookies such as Ja Morant, drafted second overall by the Memphis Grizzlies, the offense won't be run through him, affording him less scoring opportunities. Zion's frame of 6'6" 285 pounds, and injury history may derail his ROTY campaign, and career as a whole, if not addressed. In his year at Duke, Zion sprained his knee in a game against North Carolina, playing with such force that he blew out one of his shoes. Williamson's explosive athleticism combined with his weight leaves him vulnerable to significant injury, worse than those suffered before.
The two players drafted after Zion, Ja Morant (Grizzlies) and R.J Barrett (Knicks) also have good shots (no pun intended) at winning Rookie of the Year. Barrett, drafted third overall by the Knicks, has a situation in New York that would be difficult not to succeed in. The number one overall prospect for the class of 2018, Barrett will be allowed every opportunity to score, on a Knicks team that will continue tanking through the 2019-2020 season. The main weaknesses of Barrett's game: efficiency, and shot selection, are admissible because of his role on a lottery bound team. The rookie Knick has also been relatively healthy throughout high school, and college so that isn't expected to be an issue this year. Barrett will be the primary scoring option and ball handler on a poorly constructed Knicks team, and will have no shortage of minutes either. Playing alongside Zion may have taken the spotlight off of Barrett at Duke, but he'll find it again in the Big Apple.
Patrick O'Toole is a senior member of The Quill, a member of the Multimedia Journalism class.